Ribbons for weddings and other celebrations
Customisable decorative ribbons are a unique selling proposition for many sectors and service providers. RibbonWiz inspires businesses in Germany and abroad:
retailers offering an extra gift-wrapping service

florists printing on funeral ribbons in their own shop

wedding planners creating wedding decorations involving ribbons

confectioners making their deluxe chocolates look even more enticing.
There are countless reasons why people give gifts and celebrate life's special moments. Whether you choose exclusive ribbons for a wedding or individualised gift ribbons for an anniversary, personal messages are a sign of love! They make gifts and celebrations even more precious.
Help your customers make gift-giving a truly personal matter. There are plenty of advantages for your company, too: the special service you offer thanks to RibbonWiz puts you one step ahead of the competition.
No longer tied down by order quantities and delivery times
With RibbonWiz you can react spontaneously to trends. Create decorative ribbons to enhance your products wherever and whenever you want. With no need to worry about minimum order quantities and delivery times, you are totally independent. That's especially important if you are in charge of the decorations for small-scale, intimate events; for example if you print on ribbons for weddings or funeral tributes.
It also gives you an invaluable advantage on seasonal occasions such as Easter or Christmas: your carefully crafted special-edition chocolates or baked Christmas delicacies can be decorated with festive ribbons that are also a charming means of advertising your own company. The design can be spontaneously adapted in line with customers' wishes.
The RibbonWiz starter kit saves time and is easy on the pocket: it is entirely up to you how many ribbons you choose to print, or when. Whether you print on two funeral ribbons or ten, the quantity no longer makes a difference.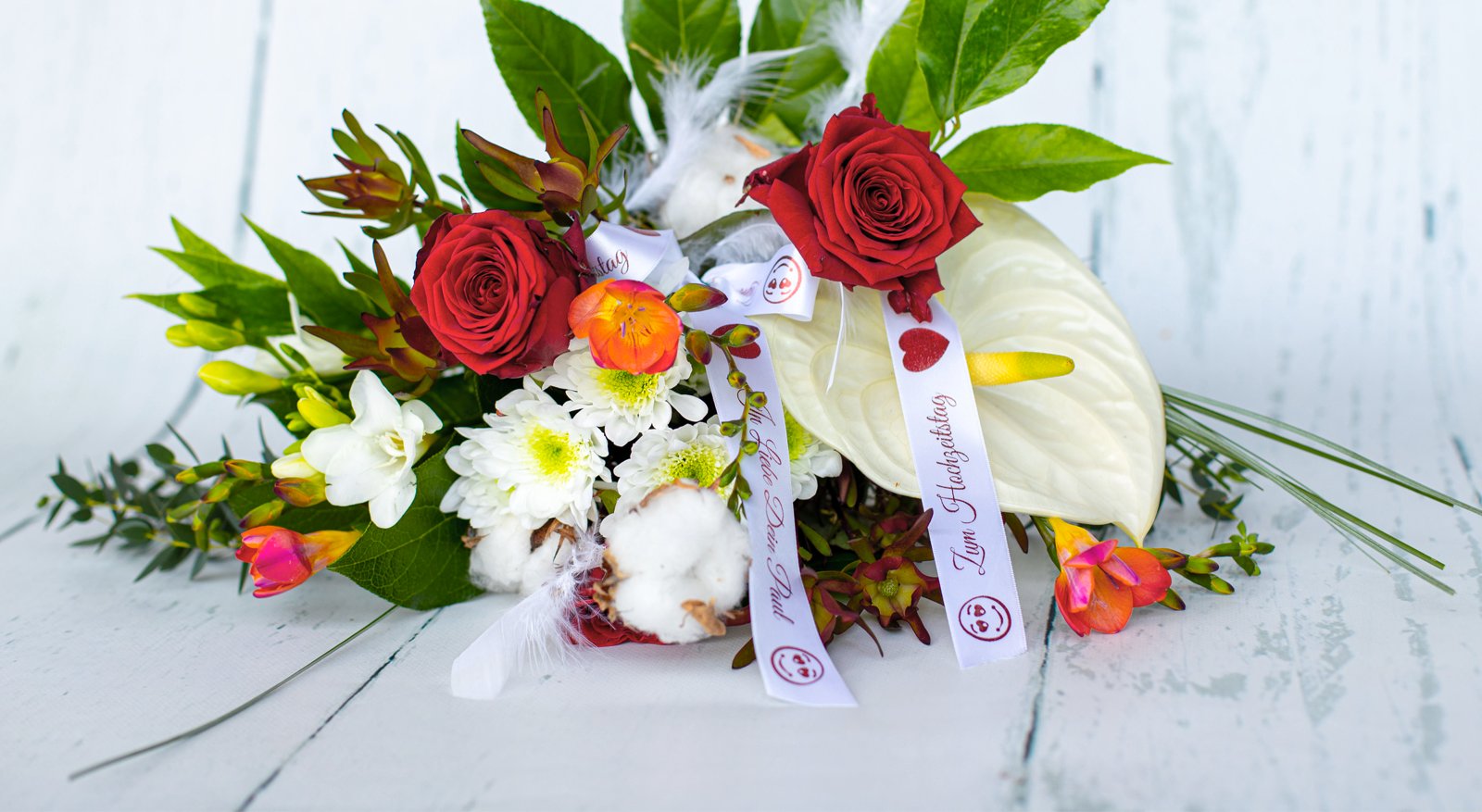 Personalised gift ribbons boost your marketing
Personalisable ribbons don't just set you apart when doing business in direct contact with customers: they can also be used in a variety of ways for your marketing. RibbonWiz gives your business added visibility.
When introducing new products: offer a gift ribbon service for special editions.

When celebrating: show your A-grade customers how much you value their loyalty.
Interested in using personalisable decorative ribbons for your marketing? Then get in touch: we can customise the RibbonWiz app to suit your needs. We'll be happy to add your corporate font and logo, and can also develop coloured foils for printing ribbons in your corporate colours.