Color Foils made in Germany
RibbonWiz color foils are perfect for printing our satin ribbons, as they are manufactured for precisely that purpose by the coating specialist KURZ in Germany.
Our color foilsare highly opaque. The RibbonWiz printer transfers the vivid colours to the RibbonWiz satin ribbons in fine detail. The printed motifs are lastingly weather-resistant.
Printing with RibbonWiz is eco-friendly as we manufacture the color foils in Germany, in line with strict requirements. We use registered raw materials only. Used transfer ribbon can be disposed of easily in your residual waste bin.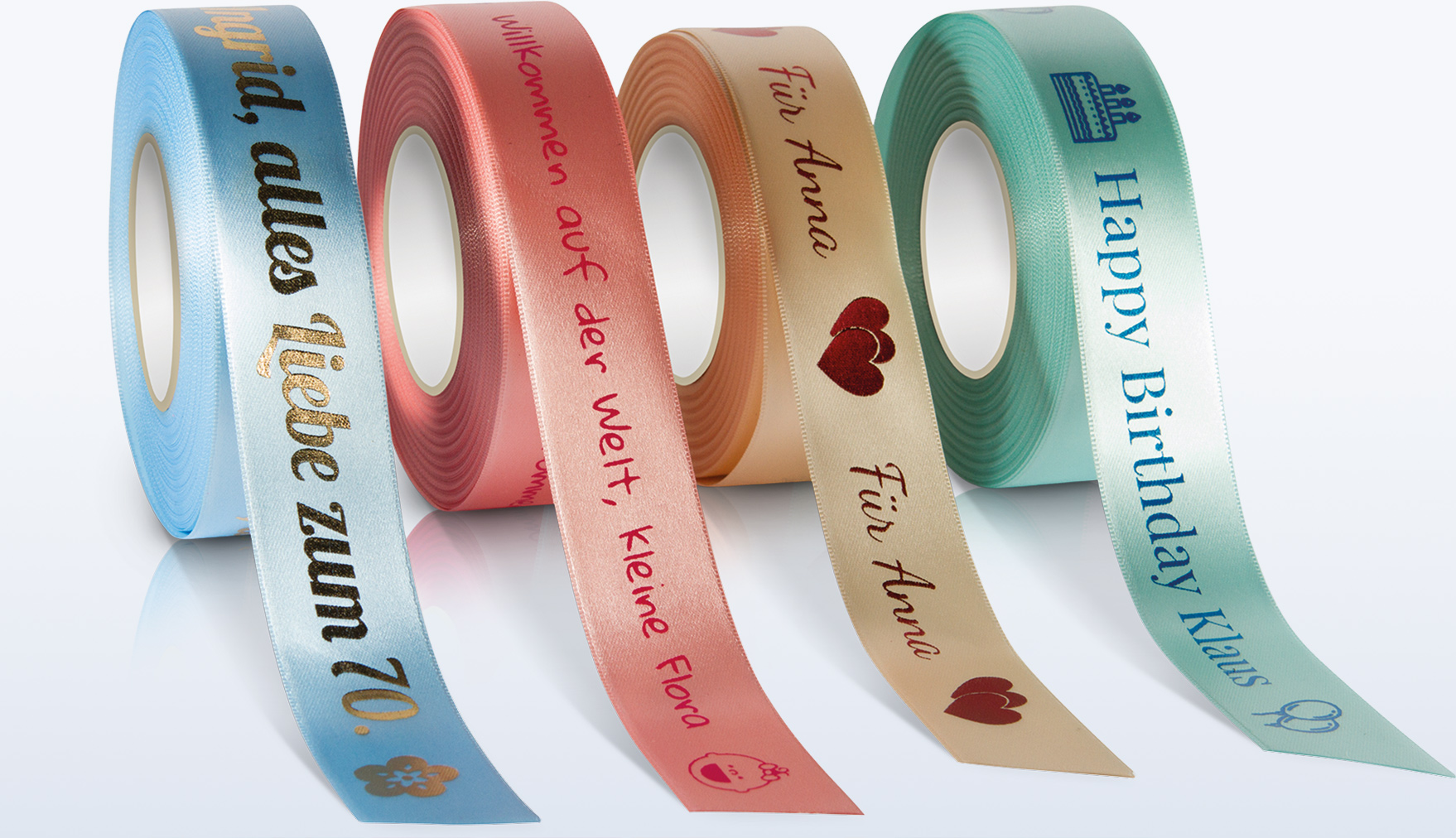 The colors of the RibbonWiz color foils
Personal messages are a sign of love! That's why they deserve especially high-quality "packaging". RibbonWiz wants nothing more than to make you and your customers happy. That is why we have developed the color foils in particularly brilliant colours. We currently offer the following colors in a width of 40 millimetres:
9 non-metallic colors:

5 metallic colors:
For wreath ribbons and table runners, we offer foils with a width of 105 millimetres in the following colors:
3 non-metallic colors:

3 metallic colors Metal Gold Metal Silver Metal Rose Metal Red Metal Blue Black White Silver Mat Sweet Orange Happy Pink
Light Blue Lime Green Yellow Purple
Interested in printing gift ribbons in your corporate color?
No problem!
RibbonWiz produces thermal ribbons exclusively for you and your business!
Simply get in touch!
Ordering RibbonWiz color foils
You can order our thermal transfer ribbons by telephone or e-mail.
We offer rolls of thermal transfer ribbon in two widths, as the satin ribbons you print on also come in different widths. Choose from thermal ribbons in the following sizes:
40 millimetres (width) x 100 metres (length)

105 millimetres (width) x 100 metres (length)
Place the color foils in the printer
It couldn't be simpler with RibbonWiz : it takes no time at all to place the color foils in the RibbonWiz printer.
If you log in on the website, you will find a video showing you exactly how it works, along with the operating manual for the ribbon printer.
Any questions? Give us a ring!
We'll be happy to help!