Design and print customised ribbons
Using the RibbonWiz app for Android tablets, you can add exactly the designs you like to colourful satin ribbons, to suit all kinds of situations. The app's clearly arranged, intuitive user interface means you can design your custom ribbons rapidly and have a realistic impression of what they will look like. Choose from a range of fonts and themed symbols in the freely accessible library to create your personal design.
With the help of our customer service, you can upload customised fonts and symbols to your library for a small fee. Once your design is ready, start printing via the RibbonWiz app. In just a few seconds, you will be holding your customised ribbon in your hands, ready for the next step – or you can start creating the next ribbon straight away!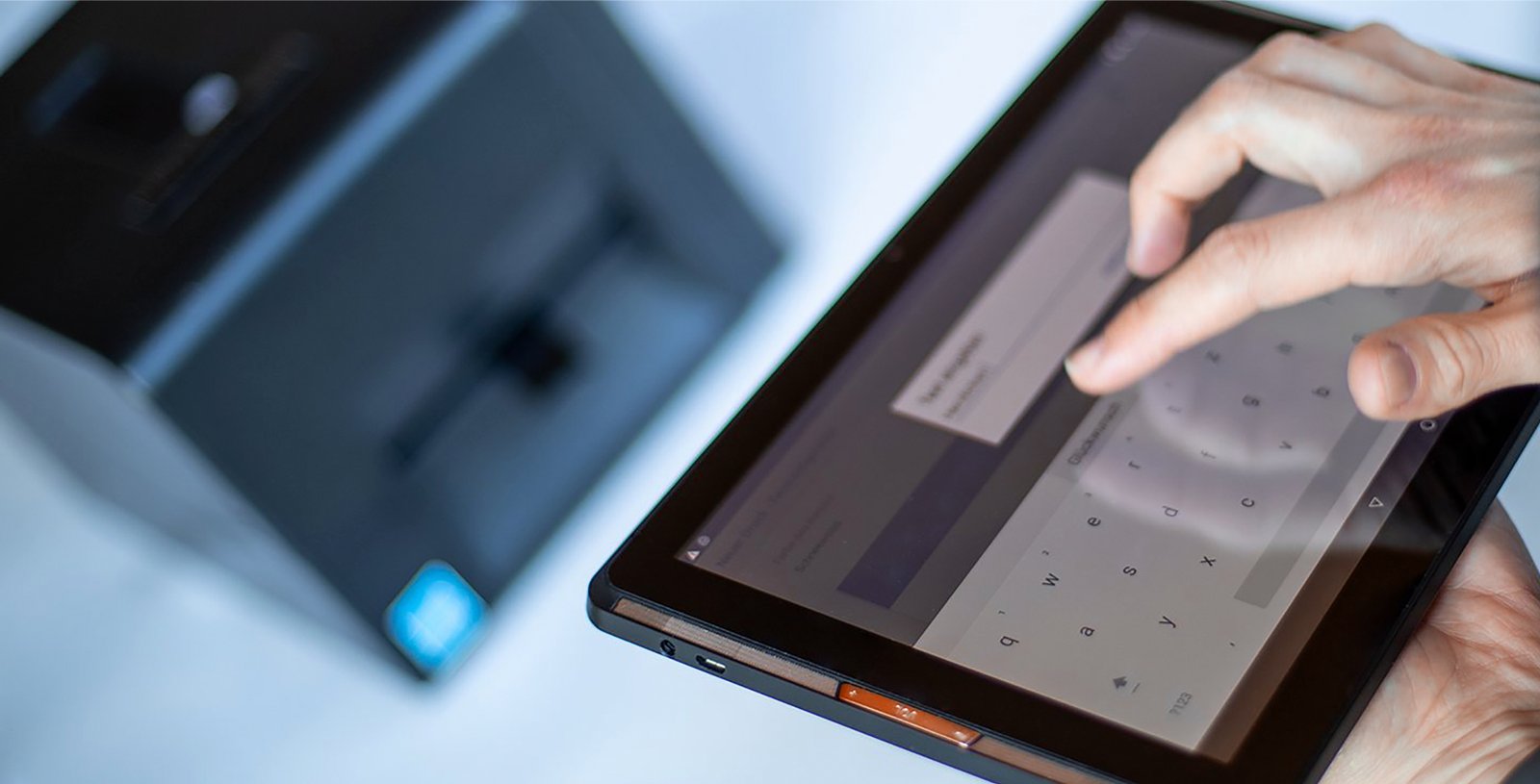 The pro version – for even more flexibility and personalisation
In the pro version, you can upload symbols and icons to your library yourself, to make your ribbon design even more personalised. Take the chance to add some extra creativity to your own marketing and branding!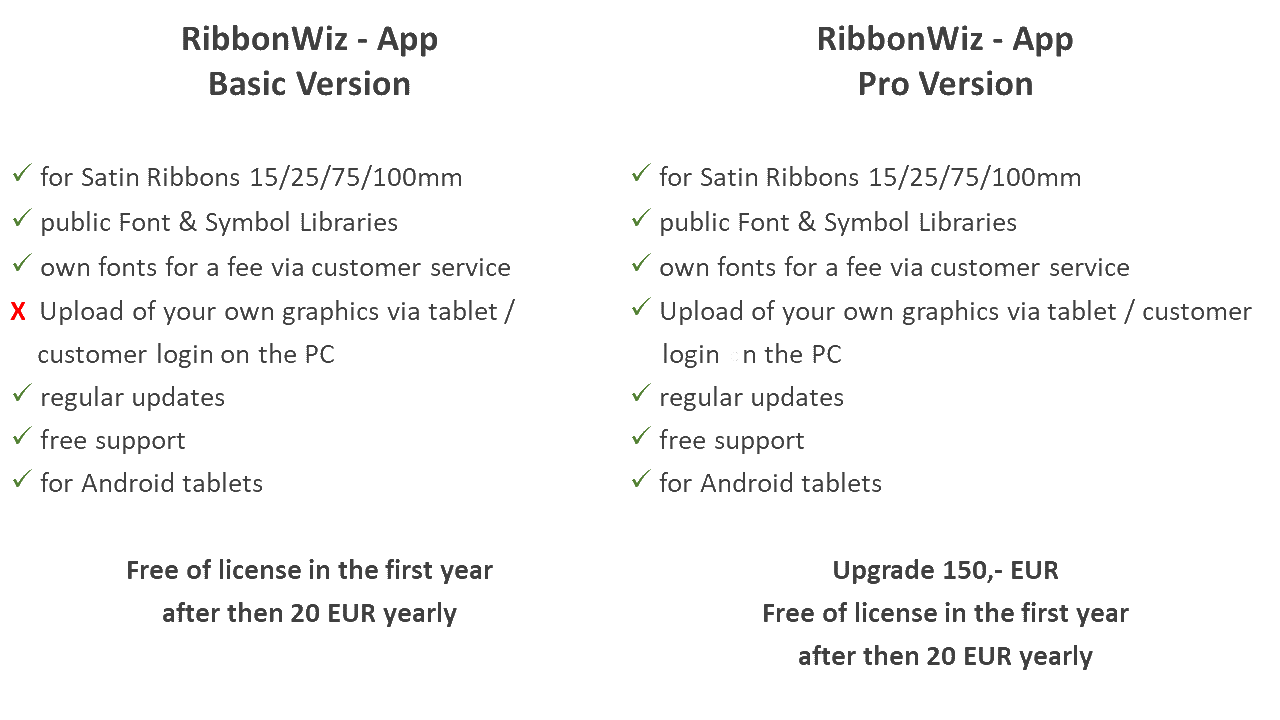 The RibbonWiz app – easy to use, stunning results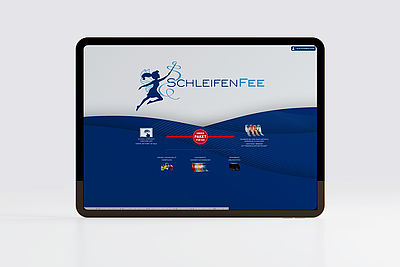 Setting up the app
On your tablet, go to the RibbonWiz website and log in using the data you received with your starter kit. Download the latest version of the RibbonWiz app from the website and install it on your tablet. Now connect your RibbonWiz printer to your Android tablet via Bluetooth. You only need an Internet connection while you are setting up and updating the app; otherwise it works offline.
TIP: go online with the RibbonWiz app every now and then to see if we have got any new functions, images or colours in store for your RibbonWiz decorative ribbons!
Design
Ribbon Settings
Set up the ribbon width and colour, and the colour of the foil you would like to use and have inserted in the RibbonWiz printer. In the app, you can also see what coloured foils we have to fit each ribbon width. You can then simply order the foils you would like by e-mail or on the phone.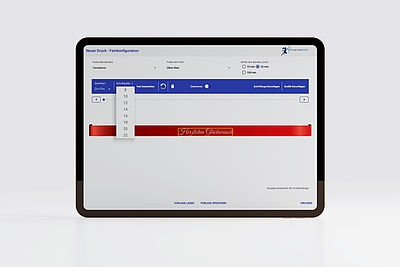 Font
Select a suitable font from the font library and adjust the size and position just the way you want.

Symbols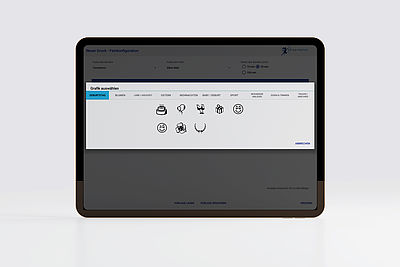 Select one or more symbols from the themes in the symbols library. Drag and drop them via the display to set the symbol size and position.
Bespoke fonts and symbols
If you would like to use your own, bespoke font, our customer service department will be happy to help by adding the font of your choice to the app. You can also add your own images and icons to your library. This fee-paying service is also carried out by our customer service department. Contact us on +49 (0)3431 57 68 24.
PRO VERSION: In the pro version, you yourself can upload your own symbols and images from your tablet or the RibbonWiz website – as many, and as often, as you like!
Print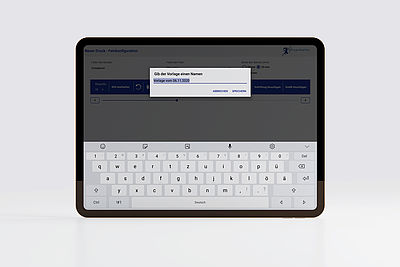 Once you are satisfied with your design, simply press the "print" button. Select how often the message is to be repeated on the ribbon. Adjust the spacing and length of the printed motif, and in just a few seconds your RibbonWiz printer will present your personalised ribbon!
Templates
Delighted by your designs? Then save your creative ideas as a template in your RibbonWiz app so that you can get printing straight away the next time you begin.
And one more tip: as not everyone is good at coming up with personal messages, we want to inspire you. So the RibbonWiz website offers you some ideas for messages to write on your customers' individualised gift ribbons
Got any questions about the RibbonWiz app? Then simply take a look at our FAQs. We will also be delighted to answer your questions in person.
Interested in printing your logo and corporate font on your ribbons?
Give us a call at +49 (0)3431 57 68 24!