Print your customers' desired motifs on gift ribbons
As of now, you can print gift ribbons with customers' bespoke text and little images; a caring message, hearts, rings or flowers – or simply the name of the recipient.
Fast. Simple. Affordable. In your own shop or company.
The RibbonWiz personalisation service adds an extra flourish to your gift-giving: adding a ribbon printed with your customer's favourite message turns your product into a highly individual gift.
Personal messages are a sign of love! And it's so easy to present them with style. The RibbonWiz starter kit helps you do it.
Select one of the high-quality RibbonWiz satin ribbons and place it in the ribbon printer.
Choose the colour you would like to print on the satin ribbon. Then place the coloured foil you need for printing in the printing unit.

Type your customer's requested text and symbols into the RibbonWiz app on your tablet, selecting the font and the length of the ribbon.

Press "start"!
Use the personalisation craze to boost your business:
Get RibbonWiz for your company!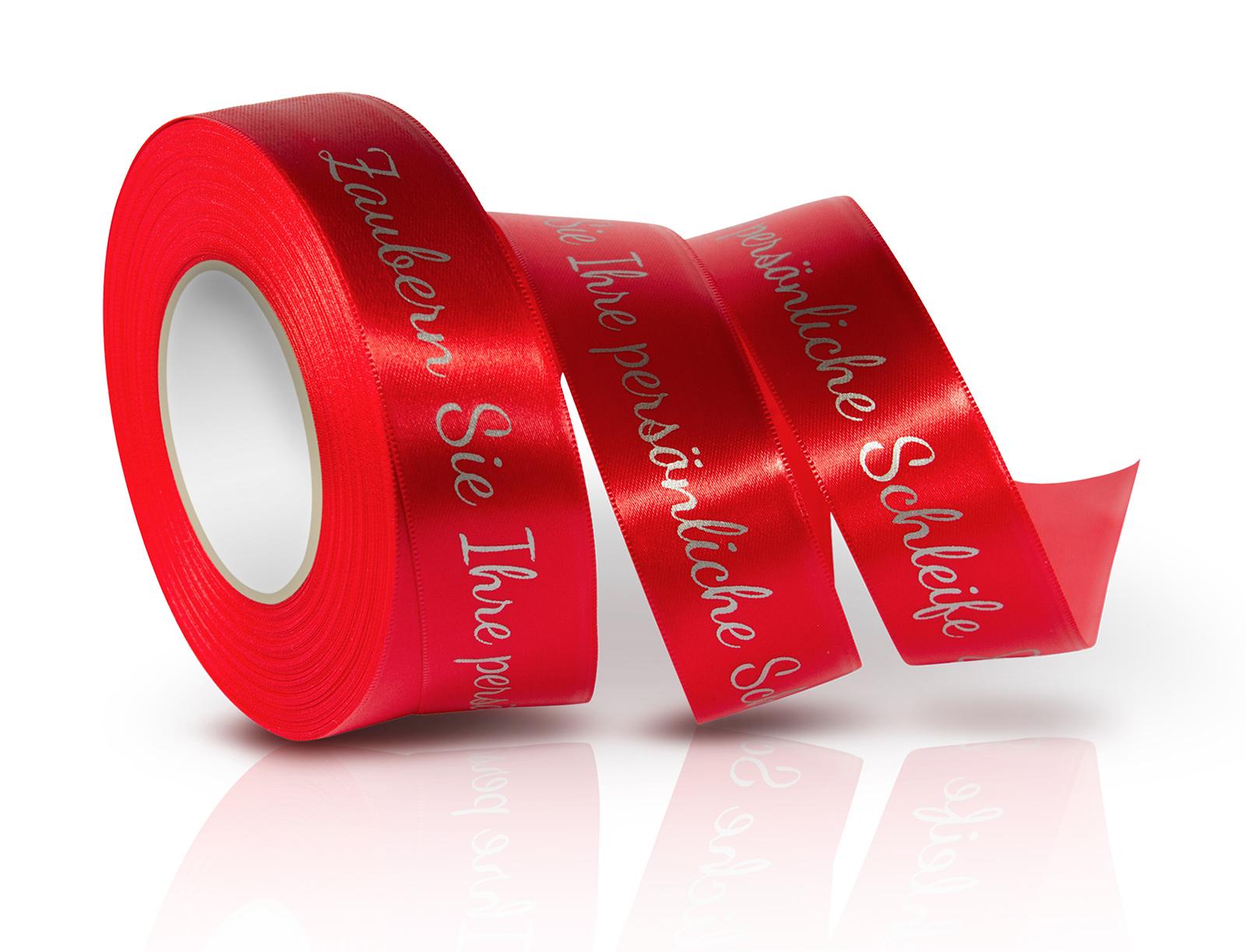 Modify gift ribbons to suit your company
With the RibbonWiz printer you can print on gift ribbons, funeral tribute ribbons or wreath ribbons in widths from 15 to 100 millimetres.
Choose from high-quality satin ribbons in all the colours of the rainbow.

To print on your gift ribbons, we have developed special coloured foils, many with a metallic effect.

You can enter the fonts or logos you want to print on your ribbon using the RibbonWiz Android app.
The RibbonWiz coloured foil, graphics, text or gift ribbon can be adapted to suit your business!
We'll be happy to add your logo and slogan to the RibbonWiz app.

We can produce exclusive foils for you in your corporate colour.

You can order satin ribbons from us in a corporate colour, too.
Simply get in touch! We'll be happy to fulfil your special requests.
Perfect for florists and anyone with outdoor decorations: as RibbonWiz ribbons are highly weather-resistant, the custom-printed gift ribbons are also suitable for decorating coffins and caskets.
The RibbonWiz app was developed for mobile devices running the Android operating system and is easy to use. Download the app here exclusively onto your tablet.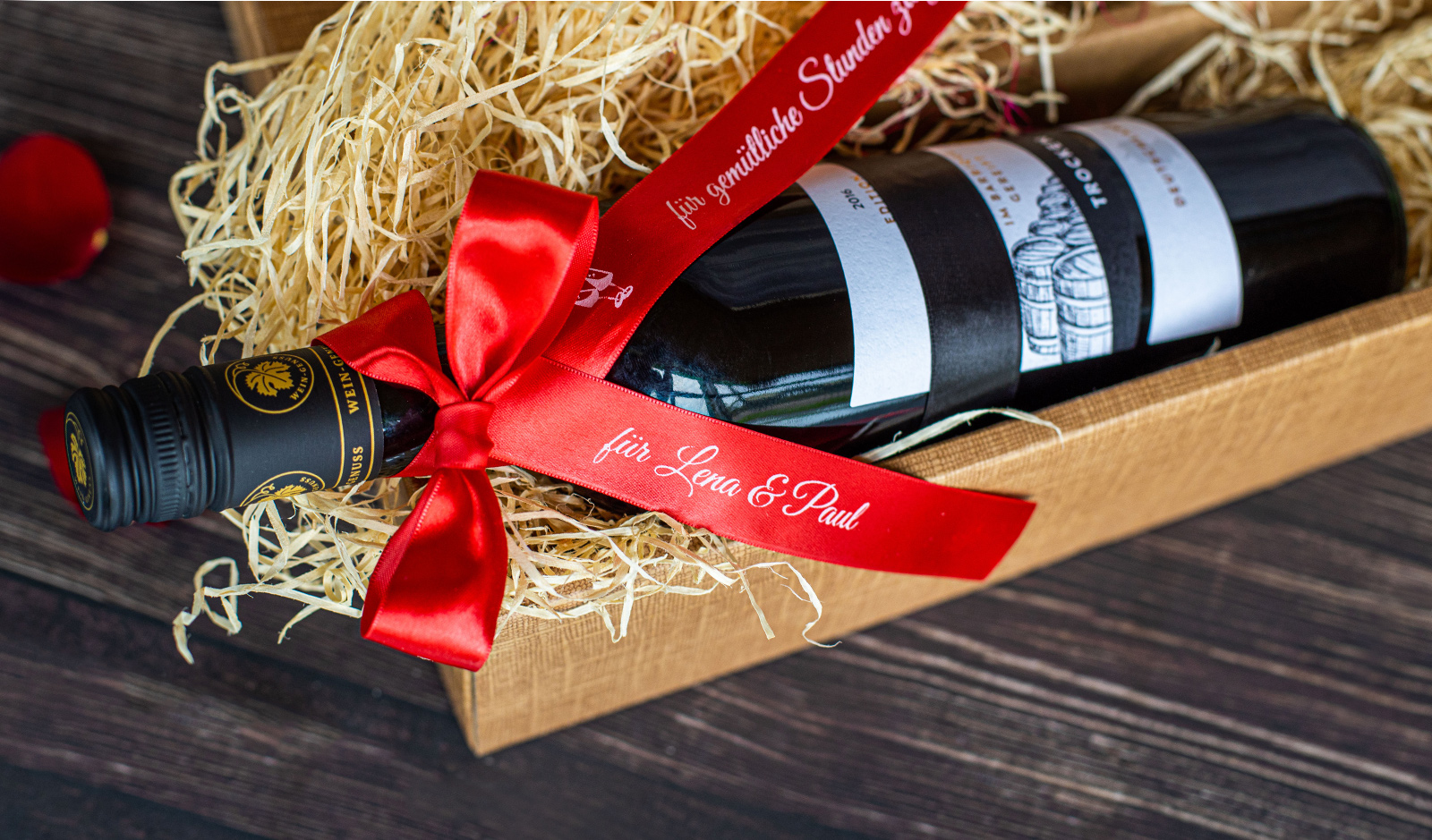 Attract and retain customers with personalisation
Be part of the personalisation craze!
Thanks to RibbonWiz, there is no need to develop any complex means of individualising your products: to turn a mass-produced item into a one-off, all it takes is a customised gift ribbon. A very personal gift for a very special person.
There are also various advantages for your company's marketing:
you can extend your range;

the personal gift service attracts and retains customers;

you can stand out from the competition.
Personal messages are a sign of love, and that's just what you can express with these individualised gift ribbons you print yourself at the point of sale. It also turns your customers into good friends who keep on coming back.
There's never been an easier way to win hearts!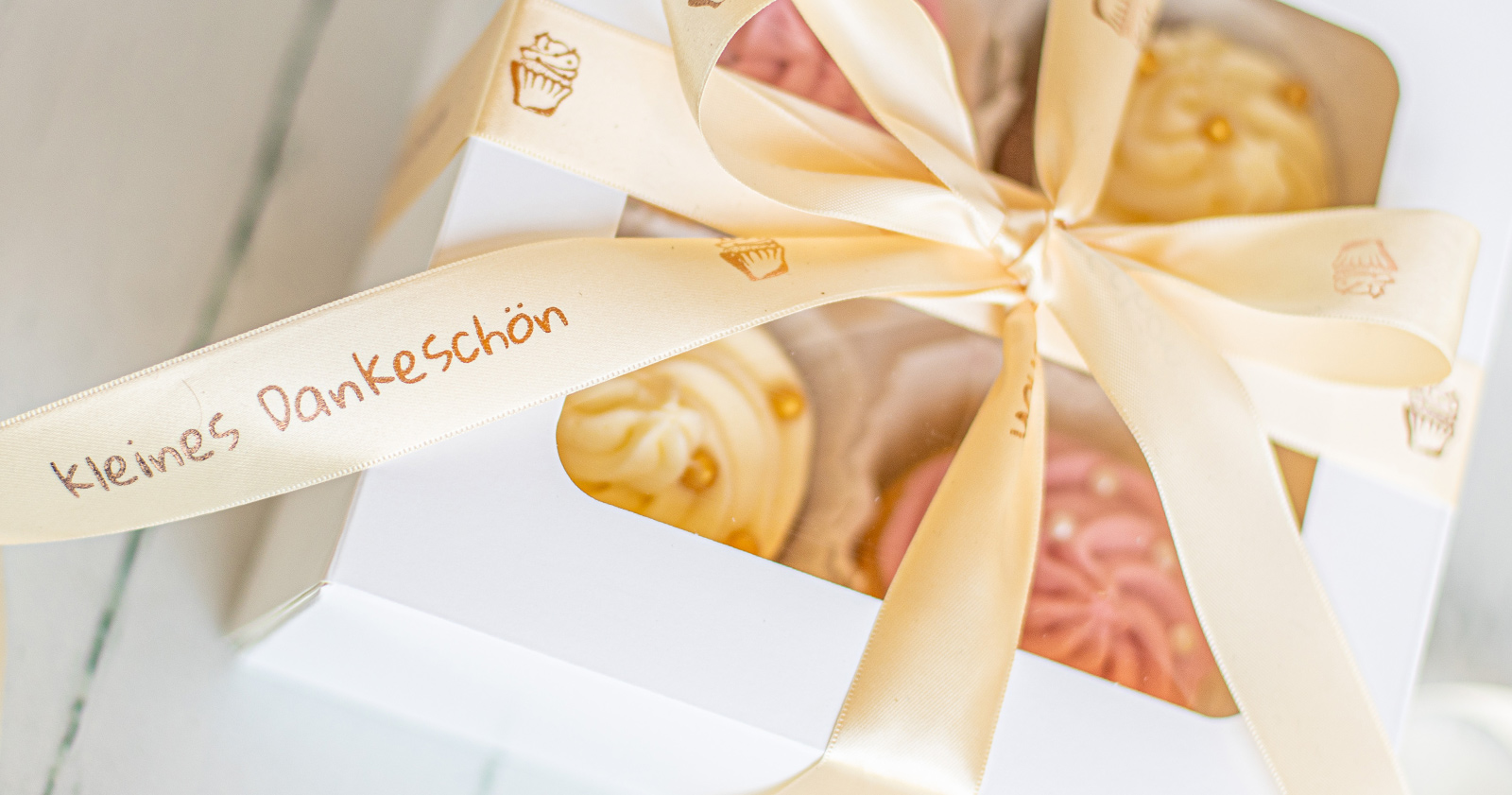 Get RibbonWiz for your company!
Enchant your customers with a very personal printing service. A click or two – and RibbonWiz is on its way to you.
Order the starter kit and you will receive our ribbon printer + a selection of satin ribbons + coloured foils for printing + access details to download the RibbonWiz app (which can be used on mobile devices running the Android operating system).