Purchase a starter kit for your ribbon printer
Print personalised gift ribbons on your own business premises: it's as easy as pie with the RibbonWiz starter kit and your Android tablet. Your ribbon printer is ready to use in minutes: load the RibbonWiz app onto your tablet, connect the RibbonWiz printer with the app via Bluetooth and insert the coloured foil and ribbon. And you're ready to go!
The RibbonWiz gift ribbon starter kit contains:
The RibbonWiz printer: with dimensions of 204 mm (length) x 280 mm (width) x 164 mm (height), it fits on any shop counter. Its light weight (2.4 kg) makes the compact printer unit easy to move about: your RibbonWiz printer will always be just where you need it.

The RibbonWiz app: when you purchase your ribbon printer, you receive the access data for the RibbonWiz app, which you can download exclusively from the RibbonWiz website using your Android tablet. The app enables you to change the design of the text on the ribbon and enter a personalised message.

colour foils in the colour of your choice.

ribbons in your favourite colour and widths of 15/25/100 mm.
Get the RibbonWiz starter kit
Start now! Design individualised gift ribbons for your customers or your own marketing and make gift-giving even more personal.
Personal messages are a sign of love. Give your customers the opportunity to express their feelings with a little help from RibbonWiz.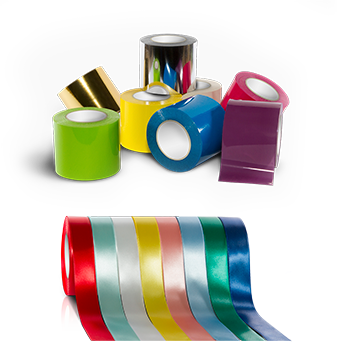 Re-ordering coloured foils and satin ribbons
When you order the starter kit, you receive two foils in the colours of your choice. If you would like to give your customers more choices for their personal messages, select some more coloured foils from our constantly growing range. For individualised printing on satin ribbons, we offer you foils in a wide range of colours – including some with smart metallic effects.
You can choose from top-quality gift ribbons in all the colours of the rainbow and widths between 15/25 and100 millimetres.When you order the starter kit, we send you four ribbons of your choice. If you would like to offer your customers a wider range right from the start, just let us know.
The coloured foils and ribbons can be ordered directly from us.
Want the RibbonWiz to cast her spell on your customers?
To order, you can use the order form, send us an e-mail at schleifenfee@kurz-typofol.de or give us a ring on +49 (0)3431 57 68 24